OneSignal SMS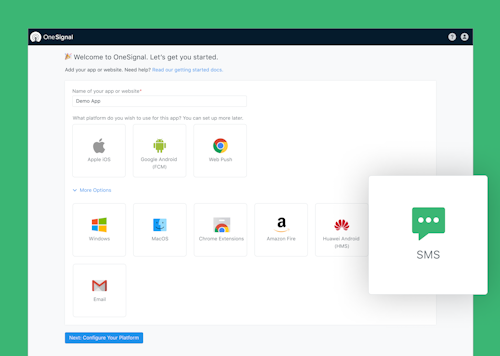 Project Background
Used and loved by developers and marketing teams around the globe to engage customers through digital messages, OneSignal recently added SMS to its suite of message sending capabilities.
As a member of the Product Design team, my goal for this project was to further simplify and streamline our normal configuration process for customers adding a new marketing channel/integration to their OneSignal account.
As the lead designer on the project, I worked with a Product Manager and members of the full stack team to help facilitate research and planning for the project. From there, I created design concepts and a prototype demonstrating how a customer can quickly configure SMS and start seeing value from adding this new channel to their OneSignal account.
Process
We conducted a deep-dive into documentation and API details for the third-party integration for this project, Twilio, revealing what would be mandatory for us to collect from the customer, and also what information could be testable/validated along the way.
Using one of my favorite tools for envisioning UX flows, Whimsical, I sketched out a few approaches for the configuration portion of the experience. I partnered with my full stack teammates to further understand the data validation that we could do against the initial set of input fields, and also what the experience could be like when the customer returns later to update or change the details of their integration.
Through several rounds of prototyping & high-fidelity screen creation in Figma, we were aligned around a solution for the initial configuration experience.
After a customer configures SMS, they can import CSV files containing the mobile phone numbers of their customers, compose new messages, determine customer segments to send their messages to, and measure the performance of the messages they're sending. I crafted screens that incorporate a new type of message preview into the composition experience, and incorporate those new data points into different locations within the OneSignal customer dashboard.
See more: OneSignal SMS product page & launch video